New ALUKAP®-SS: LOW PROFILE & ALUKAP®-SS: HIGH SPAN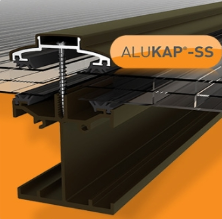 ***New ALUKAP®-SS: LOW PROFILE & ALUKAP®-SS: HIGH SPAN***
Aluminium High Span Glazing Bars
This world leading, Patent Pending, Alukap®-SS system for commercial and residential canopy glazing, is manufactured with awesome spanning strength and all profiles are powder coated aluminium for maximum longevity. With roof glazing structures getting the highest impact from the elements, making sure that the system is manufactured from the most robust materials and highest quality design is absolutely fundamental to providing a long-lasting solution. Alukap®- SS is manufactured entirely from powder-coated aluminium extrusions that withstand some of the toughest and most challenging of environments.
The Alukap®-SS High Span Bar is extruded to deliver a high structural spanning strength providing the ultimate glazing bar system for all commercial, residential and public building structures and canopies. Additionally, Alukap®-SS is designed to work well with Axiome® polycarbonate sheet, single glass glazing and double glazed units. All glazing options work perfectly with the Alukap®-SS wall plate and eaves beam structures too. The Alukap®-SS High Span Bar typically spans up to 6m providing a solution for the most demanding applications.
Alukap®-SS is produced in White RAL 9010 and Brown RAL 8040 as standard, and any RAL colour can be manufactured to order, suiting any colour scheme required.
See Brochure for download below > NSS Alukap SS brochure
Attached Documents

New ALUKAP®-SS: LOW PROFILE & ALUKAP®-SS: HIGH SPAN
(ALUKAP-SS_BROCHURE_V1_02.pdf | 2.45 MB)
New ALUKAP®-SS: LOW PROFILE & ALUKAP®-SS: HIGH SPAN