Intumescents
we supply the Mann McGowan and Lorient ranges of intumescent seals.
Gaps around the four sides of a fire door leaf are essential – it's the only way the door can open and close.
But these gaps create a point of weakness, where fire can take hold and destroy the door, and lethal smoke can pass through. In everyday use, sound can also pass through unprotected gaps; and the building's heat can be lost, wasting energy.
Lorient's intumescent seals protect those gaps. Most of the door seals shown in this section are multi-functional, which means just one product offers efficient, cost-effective protection against fire, smoke, sound leakage and heat loss.
These seals are used in the top and vertical sides of door leaves, or in the frame. The bottom of the door should be sealed with a threshold seal from our architectural seals range (Article by Lorient)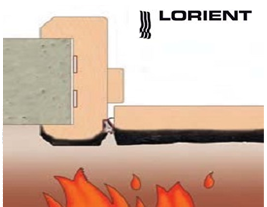 Attached Documents

Acoustic smoke and fire brochureNss
(Acoustic_smoke_and_fire_brochureNss.pdf | 1.87 MB)
Acoustic smoke and fire brochureNss